The Most Important Ham Radio
Contesting News
In 49 Years!
There Are Only 2 Ways To Try To Improve Your Contesting Skills & Have More Fun Operating Contests:
Continuing To Do What You're Doing Now Or…
Watching Your Personal 6-DVD, 12 Hour Contest Seminar Presented Directly To You By 11 PVRC Veteran Contesters.
Which Do You Prefer?
——————————————-----------------------------------------------—
Study This DVD Preview Website & Make Your Decision
——————————————----------------------------------------------------
Dear Fellow Contester (or Contester To Be),
If you're an experienced contester, a newcomer, or are renewing your previous interest in contesting and are looking to increase your score, have more fun, or just want to learn more about your hobby… we would like to show you a way that you can achieve your personal goals without needing a super-station, a stack, or tons of money.
On March 19th & 20th, 2005 the Potomac Valley Radio Club (PVRC) presented a first-of-a-kind contesting seminar to 55 attendees in Fredericksburg, VA. The 6-DVD Program, produced from video of that seminar, is now available to you!
Click HERE for your FREE Video Clip Samples!
This 6-DVD program will show you how you may improve your contest results using 3 simple concepts…If you watch & study these DVDs and follow the advice presented by the seminar presenters, you will eliminate many of the problems contesters have when trying to
maximize their contest scores and increase their contest FUN!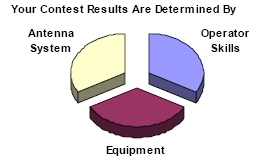 How you understand and handle these three parameters will largely determine how well you will do and how much fun you will have in your contest entry category. (Isn't it much more fun when you're breaking your personal best?)
After you have read and studied this DVD Preview Website, you will be able to draw your own conclusion about your need to own the 2005 PVRC Contesting Seminar DVDs, the impact these DVDs will have on your future contest scores and your fun, and the antennas, equipment, software and operator improvements you could implement into your station.
Regards,
The PVRC Seminar/DVD Leadership Team
An open letter to the Amateur community from Jack Hammett, K4VV, PVRC President CLICK HERE.
Nobody Should Be Allowed To Have Anything To Do With Contesting Until They've Watched This 12 Hour, 6-DVD Program at Least 5 Times!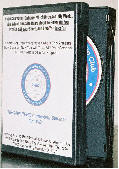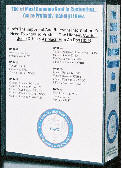 The Program:
DVD #1
Antennas- W3LPL
Propagation- K3ZO
DVD #2
Towers- K4ZA
Grounding- N3RR
Terrain Analysis- N3OC
DVD #3
Contest Operating-SO-K3ZO
Contest Operating-SO-K4ZW
Contest Operating-SOA-N3RR
Contest Operating-MS/M2- N3OC
Contest Operating-MM-W3LPL
DVD #4
Station Ergonomics - KT4W
Station Design- K4ZA
Contest Logging- KD4D
Station Automation- N3RR
DVD #5
Contest Basics- K3EST
Contest Records- K3EST
Contest DXpeditions- N3OC
RTTY Contesting- K4GMH
DVD #6
VHF Contesting-W3ZZ
Roving- W3IY
WRTC- K3EST
SEEN ENOUGH? CLICK Here to Order Your Personal 6-DVD Contesting Seminar Set.
How To Cram 279 Years Experience Into One 12-Hour, 6-DVD Contesting Video Program
The Faculty:
Bob Cox - K3EST k3est@cqww.com
CQWW Contest Director
Ray Conrad - KT4W kt4w@hotmail.com
A ham since 1967, in the 1970s Ray was a member of the W3AU multi-op team.
Don Daso - K4ZA k4za@juno.com
Don has been a ham for 42 years, and has a side business erecting towers and antenna systems. He frequently operates at W3LPL. He has the most fun operating CW, but also enjoys the high rates in SSB contesting.
Bill Hider - N3RR n3rr@erols.com
Bill has been licensed since 1962, and has been active in contesting since 1963. Since the construction of his new station in 1992, Bill has placed in the top ten frequently in the single-operator assisted category. Bill's web site can be found at http://users.erols.com/n3rr/
Frank Donovan - W3LPL donovanf@erols.com
Frank has been a ham for 45 years and has had approximately 100 #1 USA finishes in various contests. Nowadays, Frank is focused exclusively on multi-multi contest operating, where many PVRCers learn to "run with the big dogs!"
Brian McGinness - N3OC n3oc@wirelessinc.com
Brian has been a ham for 31 years and a frequent operator at W3LPL for CW contests. He is a member of Team Antigua, V26B, and operates frequently from V2, FS and PJ7. Brian's web site can be found at http://n3oc.dyndns.org/
Fred Laun - K3ZO hs0zar@gmail.com
"Mr. Contest Propagation"
Mike Sims - K4GMH k4gmh@arrl.net
Gene Zimmerman - W3ZZ ezimmerm@erols.com
Gene has 48 years of ham radio experiences and has been the editor of the "World Above 50 MHz" column in QST since 2002.
Bill Seabreeze - W3IY wseab@ieee.org
Bill has been a ham since 1965 and the author of several
articles and presentations about VHF, many of which can be found on his web site at http://users.adelphia.net/~w3iy
Mark Bailey - KD4D kd4d@comcast.net
SEEN ENOUGH? CLICK Here to Order Your Personal 6-DVD Contesting Seminar Set.
Here's What Attendees Are Saying
About The 2005 PVRC Contesting Seminar...
"Much appreciation to the PVRC leadership & seminar organizers for an excellent, useful, necessary conference. As a rookie, the opportunity to learn from the best was a massive boost for my skills. All in all a wonderful experience – thanks so much. Heartiest congratulations – PVRC will have my scores in future contests." Jerry, KA8Q
"The VHF presentations were great! I don't know anything about VHF or roving and really enjoyed these. The weekend provided a nice overview. Without the general sessions, I wouldn't have attended these (VHF sessions). W3LPL on stacks and K3ZO on propagation alone were worth the entire trip! This was a great seminar! Very professional and excellent presentations." Mark, KD4D
"The combination of material, light humor and depth of knowledge made the seminar. Becoming dry and technical is what I feared. Your speakers balanced the technical with practical, if that makes any sense. Very well run – one would think this was the 3rd or 4th such event. Another reason PVRC excels – a class act." Steve, KB3KAQ
"Very well organized, convenient location, professionally done. The CD is a fantastic resource. Really had a great time learning new things and meeting new people." Ed, NW4V
"It was personally a learning plus for me to be around accomplished, intelligent and creative people." Todd, WB2ZAB
"Great job on the seminar, thanks for doing it. Excellent seminar, above my expectations!" Joe, K4HMB
"I would like to thank the organizers, presenters and the club for producing such an excellent event. It was a great weekend to meet old friends and make new ones. I'm sure it will also turn out to be expensive as I try to eliminate my NULLS (Thanks, Frank - W3LPL). If I can't, I guess I will have to move up to 2m and above." Dick, WN3R
"Fantastic seminar!! Great speakers, excellent preparation and logistics. Thanks for making this happen." Tony, N3FX
"Excellent seminar, well arranged." Ray, K5RJ
"Great first seminar." Jim, W4EE
"Super job guys/gals to all who put it on and all who participated." Bob, W9GE
"Nicely done, congratulations and many many thanks to all of the participants, presenters and especially the organizers. Very well run, on time, didn't let questions get off topic. Would recommend to others. Great audio system, great CD." Eric, W3DQ
"Large screen and PowerPoint with speaker is excellent! Good selection of topics." Don, K3PRN
"Tnx for all the effort – Vy well organized and managed. Remarkable how well things stayed on schedule." Ben, N3UM
Post Seminar Evaluations by Attendees:
How closely did our marketing set your expectations compared to your actual experience at the seminar?
Total Responses
40
91%
My expectations matched experiences exactly
17
39%
My expectations were close to my experiences
23
52%
Did not match my expectations set by marketing
0
0%
My expectations were totally different
0
0%
| | | |
| --- | --- | --- |
| Overall, how would you rate the seminar? | | |
| Total Responses | 44 | 100% |
| Excellent | 29 | 66% |
| Very good | 15 | 34% |
| Fair | 0 | 0% |
| Poor | 0 | 0% |
| | | |
| Overall, how do you rate the speakers? | | |
| Total Responses | 44 | 100% |
| Excellent | 26 | 59% |
| Very good | 18 | 41% |
| Fair | 0 | 0% |
| Poor | 0 | 0% |
SEEN ENOUGH? CLICK Here to Order Your Personal 6-DVD Contesting Seminar Set.

"Former DXer Wins Contest Award 3 Months After Watching

The PVRC Contesting DVDs"

That Could Be You!

Buy Your PVRC Contesting Seminar DVDs TODAY...

Improve Your Score TOMORROW!

SEEN ENOUGH? CLICK Here to Order Your Personal 6-DVD Contesting Seminar Set.

Still Need More Information?

How about a few Video Clips From The DVDs?

CLICK HERE TO VIEW SOME VIDEO CLIPS FROM THE DVDs

SEEN ENOUGH? Here's How to Order Your Personal 6-DVD Contesting Seminar Set:

To place your order for you very own 6-DVD PVRC Contesting Seminar Video Program:

VIA CREDIT CARD: Call 410-780-3100

Monday - Friday 8:00 AM - 4:30 PM EASTERN TIME

OR send you check payable to Potomac Valley Radio Club to

PVRC

Dave Baugher, WR3L,

Treasurer

615 Rockway Beach Ave
Baltimore, MD 21221

We have sold out of our first production run of 100 DVD-sets and we're in the process of producing more. We'll try to beat the 4 - 6 week delivery estimate and we'll ship them to you ASAP, but we would rather under-commit and over-perform than disappoint you! We do need you to place your order now, so we know how many to make. Thank you!

Pricing:

If shipping to a Maryland address, please add 5% Maryland Sales Tax (on the DVD set cost, not on the shipping).

Please allow 4 to 6 weeks for delivery.

PVRC Members (per the latest membership roster):

$39.95 + $7.95 Shipping + $2 Sales Tax (MD only)

Non-PVRC Members: $59.95 + $7.95 Shipping + $3 Sales Tax (MD only)

-----THANK YOU -----

Last updated 02/20/2012