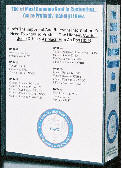 Contest Seminar DVD Sales
May 18, 2005
Objectives and Leadership of the Contest Seminar and DVD, an Update, by Jack Hammett, K4VV, President of the Potomac Valley Radio Club
In March 2005, the Potomac Valley Radio Club (PVRC) hosted a comprehensive two-day Contest Seminar, where we presented 21 technical and operational aspects of contesting. Fifty-five contesters, from rank beginner to accomplished leaders, attended the seminar. We had 12 of our most knowledgeable members as faculty.
To generate enthusiasm and build the ranks (and quality) of the general contesting community, we are offering professionally produced DVDs of this Seminar for sale at the Dayton Hamvention and afterward. This is our way of giving something back to the contesting community, providing everyone access to the same information presented in our two-day Seminar. All of the Seminar planning, management, presentation, videotaping and editing of this DVD-set; along with the marketing and sales continue to be performed by PVRC members without compensation. Our volunteer labor contributed through May exceeds 1,000 hours. The PVRC treasury and members paid the Seminar costs. Our Treasury paid the $5,000 costs for the DVD production of 100 copies (600 DVDs), marketing materials, and sales at the PVRC booth at Dayton. Our pricing is aimed at recovering only some of our direct costs. We intend to apply any "surplus" that may result from future sales to help support the next Seminar. We will once again share those presentations with the contest community. We want to make the Seminar an annual event, building on the foundation of this year's program.
Again, let me emphasize, we have invested many hundreds of hours by twenty PVRC members to produce the Seminar and DVDs. None of us has charged any fees for our work. It is a 100% volunteer project, except for the materials and essential services that we had to pay other professionals to perform. We are running this project as a service to the contest community, and not as a profit making enterprise to generate profits. Our goal is to get these DVDs as widely distributed as possible at a relatively low price to cover our expenses.
Our members requested this Contest Seminar to expand their knowledge of operating and station building skills. The campaign to organize the Seminar ramped up in late 2004. Brian McGinness - N3OC, recent VP and President for six years, volunteered to lead the initiative, along with Bill Hider, N3RR, and Jim Nitzberg, WX3B.

WX3B arranged the venue for the Seminar. N3OC generated a draft agenda and recruited speakers as faculty. We are very fortunate to have a number of experts in ham radio contesting available to us, and our invited speakers rose to the challenge and arranged some entertaining and educational presentations. N3RR led the campaign to generate the professional marketing support for the Seminar and N3OC put the marketing and registration process up on his web site. N3OC and WX3B made the arrangements for activities during the Seminar weekend. K4VV emailed other Club Presidents and N3OC posted the marketing on www.contesting.com and ran the follow-up email campaign. Don Daso, K4ZA, made the trip to Fredericksburg, VA from Charlotte, NC with his BetaCam to record the video and audio of the Seminar, which made it possible to produce a DVD version.
The twelve faculty volunteers who created and presented at the Seminar are: Frank Donovan – W3LPL; Fred Laun – K3ZO; Don Daso – K4ZA; Bill Hider – N3RR; Brian McGinness – N3OC; Ken Clearbout – K4ZW; Ray Conrad – KT4W; Mark Bailey – KD4D; Bob Cox – K3EST; Mike Sims – K4GMH; Gene Zimmerman – W3ZZ; and Bill Seabreeze – W3IY.
Registrations filled the Seminar to capacity 18 days after the initial marketing hit the streets, adding to our motivation to make a six-DVD set available to many who could not attend. K4ZA reviewed the tapes and let us know the quality was good. This encouraged us to pursue the DVD production. Discussions at several PVRC meetings added momentum to this objective.
The PVRC team of K4VV, N3RR, W2DZO (Henry Heidtmann), K4ZA, WR3L (Dave Baughter), and WX3B formed in April with N3OC and W3DQ (Eric Rosenberg) in support. W2DZO volunteered to perform the critical function to edit the video to create the digital master that included introduction, titles, names, transitions, combined with each Speaker's PowerPoint images. N3RR volunteered to pull together the marketing inputs from the team, create the brochure, web design, the DVD marketing campaign, create and design the DVD Case sleeve, Dayton booth layout and banner, web site content, and select and edit clips of video for demo in Dayton Booth #198 and in the Hospitality Suite at the Crown Plaza as well as work the PVRC Booth throughout the Hamvention. K4ZA drove halfway to meet W2DZO to hand off the videotapes and a professional DV deck and he supported the planning and execution of the project. W2DZO tackled the very time consuming editing process. The team reviewed and approved portions of the edited video from Henry and proceeded to production with a known provider for DVD delivery to Dayton on May 18. K4VV provided team coordination and decisions as needed and handled Booth and Crown Plaza arrangements. WR3L, PVRC Treasurer, provided the financial management and advice to keep the project on track and volunteered to process and ship orders for DVDs that flow from the Internet. WX3B did reviews and planned the staffing for Booth #198, brochure distribution, and coverage at the Crown Plaza. N3OC implemented the hosting of Seminar Internet sales on his web site and gave advice. W3DQ gave advice and help in sales. This has been a very serious and determined volunteer team-effort to achieve our objective to release the DVDs at Dayton.
Many others gave help and advice. Six involved members contributed $1,450 to PVRC to make sure that our Treasury remains robust during this period before we receive income from DVD sales and our annual membership contributions.
This project is intense, successful, and on schedule. We look forward to a welcome response from contesters!