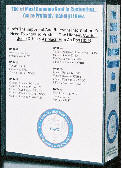 Contest Seminar DVD Sample Video Clips
These sample DVD clips are large files (9mb) and are best viewed using a broadband connection. All of the video clips will play with the Windows Media Player except for the last one, which requires Real Player.
To view the clips, RIGHT-CLICK the links below, click SAVE TARGET AS and save the file somewhere on your hard drive, then click OPEN and the file will play. We are having some difficulty directly streaming the media from the server. You can try just clicking them, but if you get a message saying the file is corrupt, use the above procedure as a work around until we can get the files to stream correctly.
DVD #3 - Single-Op Contesting - K3ZO
DVD #4 - Contest Station Ergonomics - KT4W
DVD #4 - Station Automation - N3RR
DVD #5 - Contest Basics - K3EST
Sample Clip #7 (requires Real Media player)