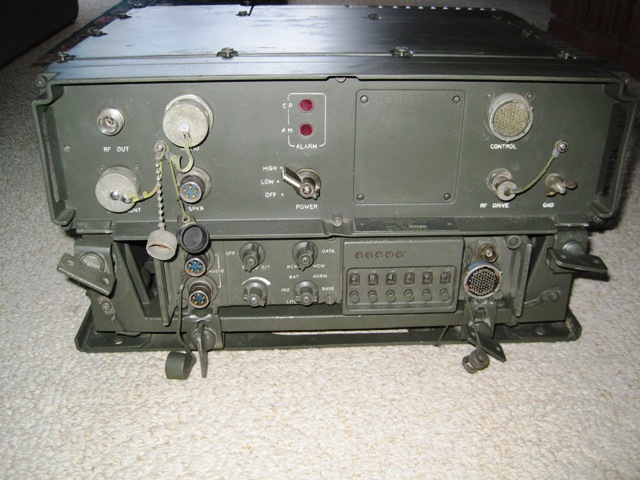 THE VRC-176 AND VRC-176A ARE 100 WATT VEHICULAR AMPLIFIERS AND MOUNTS FOR THE PRC-174 SERIES OF MILITARY PACKSETS.
THE POWER CABLE IS THE STANDARD CX-4720 24 VOLT VEHICLE RADIO POWER CORD THAT MOST OTHER MILITARY RADIO SETS USE.
THE VRC-176 COMBINATION CONSISTS OF THE MT-1760A/VRC-176 MOUNT, THE RT-936 (OR RT-936S) TRANSCEIVER, THE AM-1760A/VRC-176 AMPLIFIER (OR AM-1760-HF AMPLIFIER FOR VRC-176A), THE CX-1763 DOG BONE CABLE (CX-1763-HF FOR VRC-176A), THE CX-1762 COUPLER CABLE, THE CP-769 COUPLER, THE ANTENNA MX-769 AND IT'S MOUNT MT-769.
THE TWO VERSIONS ARE THE SAME EXCEPT THE VRC-176A HAS A DIGITAL FREQUENCY DISPLAY ON THE AMPLIFIER. ALL OTHER COMPONENTS OF THE AMPLIFIER ARE IDENTICAL WITH THE STANDARD AM-1760, AND ALL MODULES ARE FREELY SWAPPABLE.
I HAVE RECENTLY RECEIVED A PARTIAL SET OF SCHEMATICS AND BOARD LAYOUTS FOR THE CP-769 AND VRC-176. AS THEY ARE BLUEPRINT SIZE, THEY ARE NOT EASILY COPYABLE. i CAN MAKE EXCERPTS OF THEM AVAILABLE TO HELP ANYONE WHO IS ATTEMPTING MODULE LEVEL REPAIRS OF THE VRC-176. I HAVE BEEN WORKING ON MY OWN VERSION OF A PARTIAL MANUAL WHICH YOU CAN DOWNLOAD HERE. THIS WAS RECENTLY UPDATED JULY 2015.
THERE IS A 400-WATT VERSION WHICH IS RARELY SEEN, CALLED THE VRC-476 THAT USES THE AM-4760 AMPLIFIER.
THERE ARE A NUMBER OF ADJUSTMENT POTS ON THE ALC MODULE.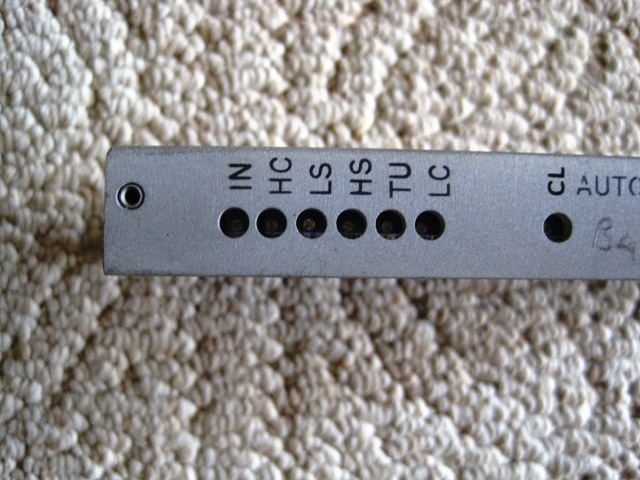 SEE THE UPDATES IN MY VRC-176 MANUAL FOR SOME INFORMATION ON MAKING THESE ADJUSTMENTS:
IN = INPUT DRIVE FROM RT-936 (DOES NOT SEEM TO HAVE MUCH EFFECT)
HC = HIGH POWER CW OUTPUT ADJUST (SET FOR 100W)
LS = LOW POWER SSB OUTPUT ADJUST (SET FOR 10-20W)
HS = HIGH POWER SSB OUTPUT ADJUST (SET FOR 100W)
TU = TUNE POWER SET
LC = LOW POWER CW OUTPUT ADJUST (SET FOR 10-20W)
CL = ALC CUTOFF LEVEL (NOT ALL MODULES HAVE THIS POT)
POWER SUPPLY VOLTAGES ARE 40VDC, 25VDC, 12VDC AND 5VDC. THE 40VDC AND 25VDC ARE ONLY ON WHEN THE TRANSMITTER IS KEYED. THERE ARE POWER SUPPLY TEST POINTS ON THE BOTTOM OF THE MOTHERBOARD. solder AN EXTENSION WIRE TO THEM TO CONNECT YOUR METER WHILE THE AM-1760 IS IN THE MOUNT IF YOU NEED TO TEST THEM.
THE RF DECK IS EASILY REMOVED FROM THE UNIT BY LOOSENING THE HEX SCREWS WITH A 1/8" HEX KEY. IT IS NOT NECESSARY TO REMOVE THE BLOWER COVER FIRST, THERE ARE HOLES TO ACCESS THE HEX SCREWS. ONCE THE SCREWS ARE LOOSE, JUST PULL THE ENTIRE RF DECK OUT FROM THE REAR. IT IS CONNECTORIZED AND WILL SLIDE OUT EASILY.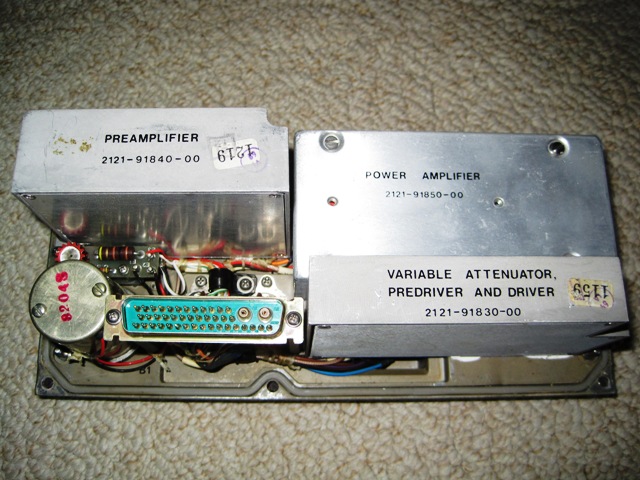 HERE ARE A FEW VRC-176 PICTURES. CLICK ON ANY THUMBNAIL FOR A FULL-SIZE IMAGE.
DOWNLOAD N3OC'S VRC-176 MANUAL HERE (UPDATED JULY 2015)
THIS IS A WORK IN PROGRESS, SEND ALL COMPLAINTS TO THE CIRCULAR FILE.
CP-769 COUPLER INFO AND PICTURES
LAST UPDATED 07/05/2015