Uniden HomePatrol 1 GPS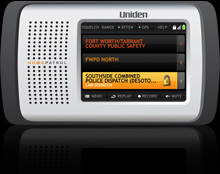 This page contains information about connecting your Uniden HomePatrol 1 to a GPS receiver.
You will need a GPS receiver with a NMEA 0183 RS-232 output. These are getting harder to find now days, as many receivers have switched to a USB connector. USB will NOT work, you need an RS-232 connector on your GPS receiver.
You can either add an RS-232 cable to a regular GPS that has a display, if your receiver supports it. Or you can get a hockey-puck type receiver where all the electronics are in the antenna, and the only connection is the power (usually a cigarette lighter plug) and the data output (RS-232).
I recommend a "Garmin GPS18x PC" model. This is an integrated GPS with all electronics in the antenna, and does have the required RS-232 output cable.
With this unit, all you have to do is plug it in and pop the mag mount antenna on the roof of your vehicle. There is nothing to configure!
One more thing you will need. Uniden provides the WRONG gender of RS-232 connector on the GPS cable they sell for the scanner. It should be a male connector, and it is a female. And they wired it as a modem (DCE) when it should have been wired as a PC (DTE).
This means you have to go through the additional hassle of getting a gender changer and a null modem adapter. If they wired the cable right, it would have just plugged in. But they didn't, so no sense whining about it now.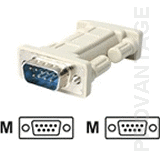 The cleanest solution I have seen to this problem is a "DB9 male-to-male null modem serial adapter", modem NM9MM made by startech.com. Several on-line sites offer them, including sewell direct, provantage and startech.