<![if !vml]>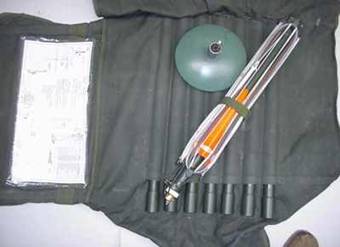 <![endif]>
THE AS-2259/GR ANTENNA IS AN NVIS (NEAR VERTICAL INCIDENT SKYWAVE) ANTENNA USED BY MANY HF MILITARY RADIOS. THE ANTENNA IS BASICALLY TWO CROSSED DIPOLES, VERY LOW TO THE GROUND, WITH RESONANCES AROUND 5MHZ AND 9MHZ.
BEING SO LOW TO THE GROUND, MOST OF IT'S SIGNAL IS RADIATED AT A VERY HIGH ANGLE (HENCE THE "NEAR VERTICAL" PART OF IT'S NAME) AND THEREBY IT PROVIDES GOOD COMMUNICATION AT SHORT DISTANCES ON FREQUENCIES THAT CAN SUPPORT HIGH-ANGLE HF PROPAGATION.
<![if !vml]>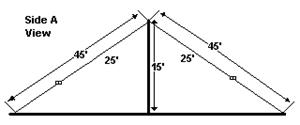 <![endif]><![if !vml]>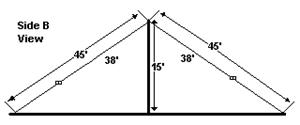 <![endif]>
MOST MILITARY EXAMPLES YOU SEE ARE VERY EXPENSIVE AND OVERPRICED IN MY OPINION. YOU WILL PAY $200 FOR AN ANTENNA THAT YOU CAN MAKE YOURSELF FOR AROUND $30 WORTH OF MATERIALS.
MY HOMEBREW VERSION HAS THE WIRE LENGTHS MODIFIED SLIGHTLY TO MOVE IT'S RESONANT FREQUENCIES TO THE 60 METER AND 40 METER BAND. IT CAN BE EASILY ADAPTED TO THE 80 METER BAND ALSO.
YES, IT WAS DESIGNED TO BE USED WITH A TUNER THAT MOST MILITARY RADIOS HAVE. BUT TUNERS ALSO INDUCE A GOOD BIT OF LOSS, SO IF YOU CAN MAKE IT RESONANT ON A USEFUL HAM RADIO FREQUENCY, IT WILL PERFORM MUCH BETTER!
BELOW ARE LINKS TO MY INSTRUCTIONS ON HOW TO MAKE A HOMEBREW VERSION OF THIS ANTENNA, AND OTHER AS-2259/GR LINKS OF INTEREST.
CALVERT AMATEUR RADIO CLUB'S NVIS PROJECT
TM 11-5985-379-14 MILITARY AS-2259/GR MANUAL
LAST UPDATED 01/22/2012